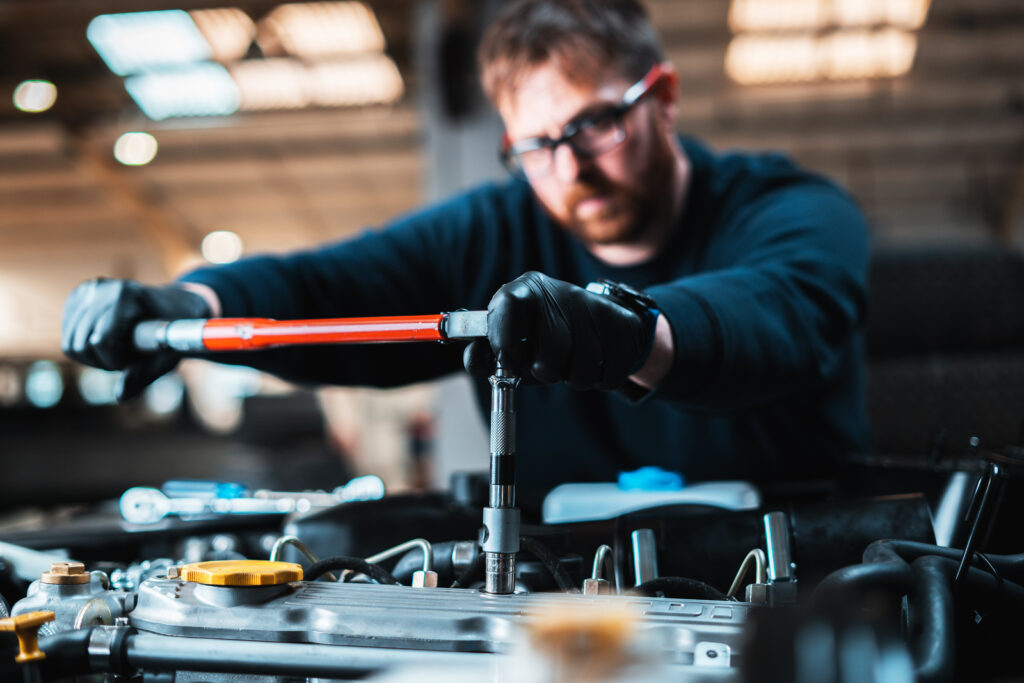 Restoring a Land Rover Defender is an intricate, complex project; it requires impeccable attention to detail and the utmost care at every single stage of the process from start to finish. When you're considering reimagining and redesigning your classic Defender, it's imperative that you partner with a restoration company you can fully trust such as TATC.
We pride ourselves on being leaders in Land Rover Defender restorations, promising exacting and diligent work on every single aspect of these legendary 4×4 vehicles. Below, we've written an informative post that looks at some of the leading reasons why you should choose us for your Land Rover Defender restoration.
Read on further to learn more and if you would like to bring your dream Defender to life, please get in touch with our team today using our website's contact page.
Unrivalled Expertise and Experience in Restoration
Experience and expertise are two absolute necessities when it comes to a restoration. They demonstrate that the restorer is equipped with all the required skills and knowledge to deliver a premier finished vehicle, meeting all individual specifications. At TATC, our restorers have a wealth of experience in the restoration of Land Rover Defenders.
Our automotive engineers have worked on a range of custom Defenders including the Defender 90, Defender 110, and Defender 130 models. As a result, we have extensive experience in working with and restoring a number of different models, so we'll know the best approach for your particular Defender.
Meticulous Attention to Detail
Restorations are detailed, difficult projects that demand attention to detail at every single stage of the process. A high-quality custom Defender is one that has been precisely engineered and crafted to an exact specification. At TATC, we ensure the utmost attention to detail on every single restoration, no matter the complexity of the project.
Every stage of the restoration process – whether it's the restoration of the chassis or the body shop work – is overseen to the highest standards in the industry. Over 1,000 man hours are put into each and every custom restored Defender that enters our workshop. This painstaking level of attention sets us apart, and guarantees unrivalled quality in the end result.
High-Quality Parts and Materials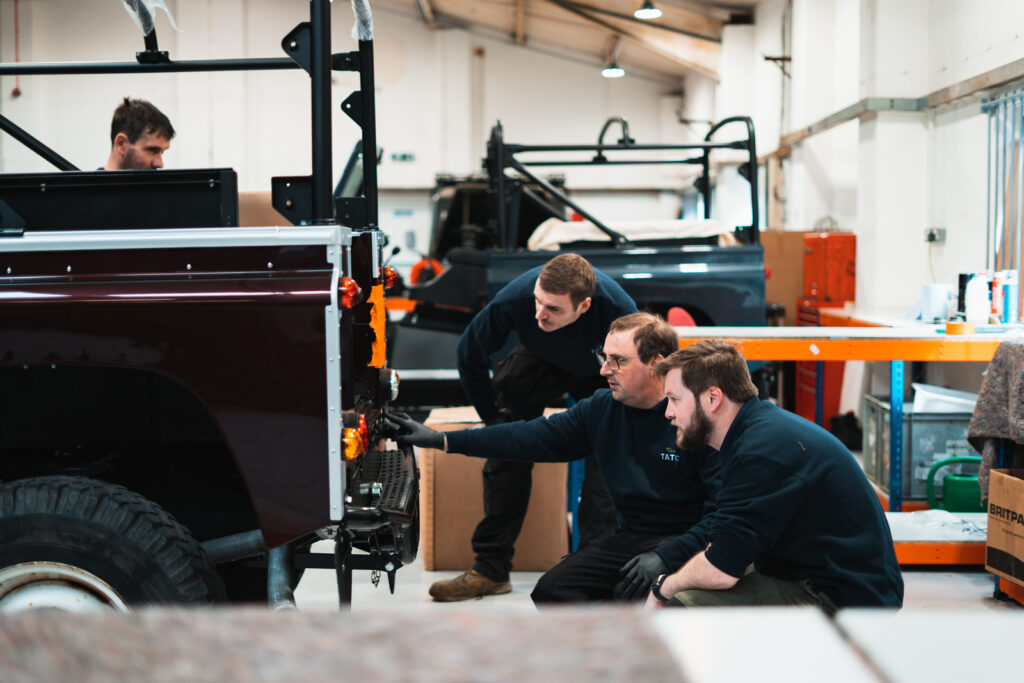 Another reason to choose TATC for your Land Rover Defender restoration is that we use the highest quality parts and materials in our restorations. We remove every single body panel, nut and bolt across your Defender, stripping it down to the bare chassis.
All of the parts in our Defenders meet the top standards, guaranteeing optimal performance and a long lifespan. Alongside this, we wax oil every chassis nut and bolt, ensuring that it stays rust proof for many years to come.
Our Defenders are Made in Britain
At TATC, we're proud to retain the British heritage of the Defender, an icon of British Automotive manufacturing. All of our restorations are overseen in the South West of England, completed on one site – ensuring superior levels of quality control.
Our specialist in-house team consists of a number of artisan, automotive engineers, all of whom deliver the finest British craftsmanship around. Every Defender undergoes a rigorous quality assurance check at each stage in the process, and upon completion, the vehicle will undergo a pre-delivery inspection before it's shipped.
Finished with Personal Touches
Defenders are uniquely personal vehicles to be cherished for several years to come. There is nothing quite like the beauty and precision of a custom Defender. When you choose TATC, we will finish your Defender restoration with a personal touch.
Every Defender we restore comes complete with a plate attached to the vehicle that shows the name of the lead engineer who worked on the rebuild. This signifies the attention to detail, utmost care and precision dedicated to your Defender throughout the entire process.
We've Received a Multitude of Excellent Client Testimonials
Experience and reputation are major markers of the quality of a restoration service, and at TATC, we have an extensive level of experience and a strong reputation in the industry. We have received numerous testimonials from happy clients who've rebuilt and recreated their dream Defender alongside our team.
Over the years, we've worked with a diverse range of clients, all of whom have had unique requirements and standards which we have consistently met. If you would like to view our client testimonials, then please head over to our website. We can also put you in touch with one of our customers too, if required.
Numerous Benefits to Restoring with TATC
Overall, there are a number of excellent benefits of using our restoration services at TATC. Simply put, we provide a first class bespoke Defender service that gives every individual a special, once-in-a-lifetime opportunity to redesign and rebuild an exclusive British icon in their own image.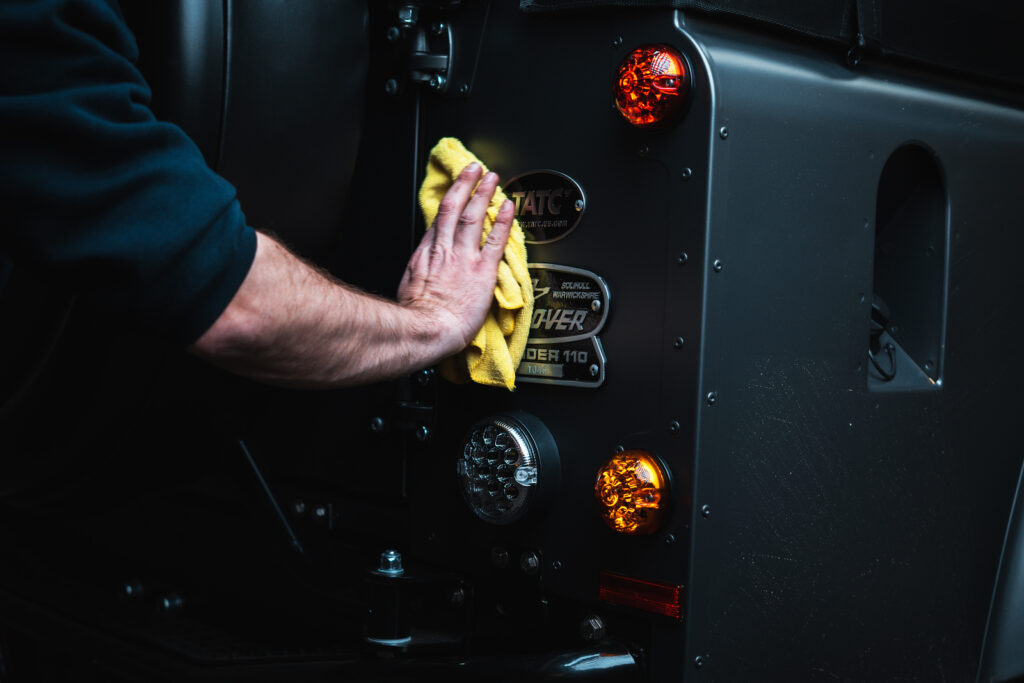 Our wealth of experience and premier expertise makes us adaptable to all of your requirements, enabling us to provide a flexible, personalised service on every project. Our complete attention to detail means that every stage of the restoration process is delivered with excellence, and reaches the highest standards in the industry.
With premium quality parts and materials used in the restoration process, your Land Rover Defender will be able to perform at the best level, and stay in better health throughout its life. And, with personal touches added to your vehicle, you'll be able to join a part of history as the proud owner of a restored Land Rover Defender.
The excellent client testimonials that we have, as well as, our commitment to keeping this British icon made in Britain, make us one of the leading restoration companies to choose for your Defender project. To learn more about why you should choose TATC to bring your Defender dreams to life, please contact us today.
Begin Your Custom Land Rover Defender Journey Today
If you would like to start your Defender adventure today, then TATC is the restoration company for you. We design bespoke Land Rover Defenders of the finest quality around. To get in touch with our team, please contact us via the online form on our website.
We are always here to discuss your unique requirements in more depth, provide you with further information and answer any questions you have. Our team will respond to you as quickly as possible; we look forward to hearing from you soon.