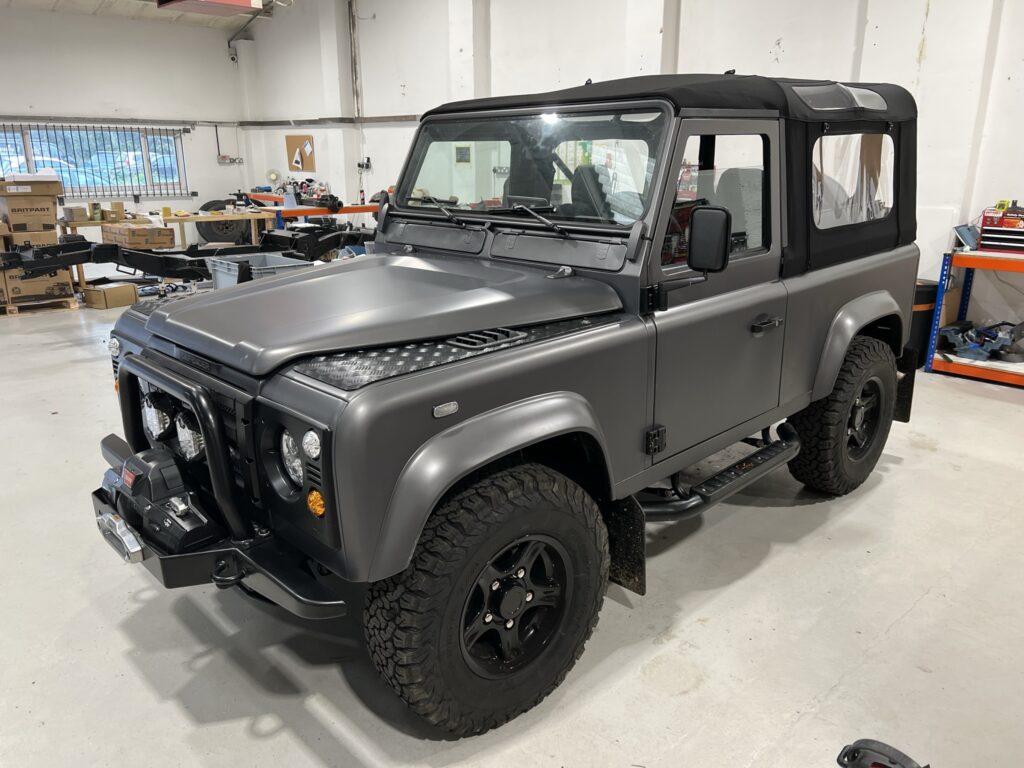 The Land Rover Defender is an icon of the British automotive industry. Famous all over the world, the Defender is renowned for its impressive versatility and toughness in unforgiving, challenging environments. It is synonymous with the countryside, so much so that many have declared that the Defender is to the countryside what the black cab is to London.
Originally built in 1948, made of aluminium and inspired by Jeep in World War 2 – with the addition of Rover mechanics, the Land Rover Defender has been owned by a number of historical figures such as the Queen, Sir Winston Churchill and Sir David Attenborough. Its enduring popularity is certainly, in part, due to its incredible history and iconography over 70 years.
Alongside this, the Defender's impressive functionality and ability to conquer any terrain has ensured that it continues to be one of the most-loved and sought-after vehicles in Britain to this day. The Defender is one of the finest all-purpose vehicles, widely known and adored for its superiority in roving the land, regardless of the conditions or environment.
Today, the Defender remains at the height of its popularity all over the world, from the UK to the US and beyond. It continues to be passed down through generations, as well as finding itself in the hands of new owners who want to be a part of the history of this omnipresent British automotive icon.
Why Restore a Land Rover Defender?
Restoring a Land Rover Defender is a once-in-a-lifetime opportunity to put your own distinct mark on a British legend, and create a fully bespoke 4×4 that meets your exact specification. It's a deeply rewarding and exciting experience, offering so many different avenues and a unique adventure for you to enjoy and reminisce about for years to come.
It's also a great opportunity to make your Defender stronger, more capable and more robust, so that it's able to navigate all terrains with even more ease and reliability. Restoration will upgrade and enhance your Defender, improving its performance and enabling it to reach the highest standards possible.
Simply put, a custom restored Defender will be better-looking, better-performing and better-equipped than when it originally left the Land Rover factory. It will be preserved for future generations, with both its historical attributes celebrated and its performance considerably improved.
If you would like to breathe new life into your Land Rover Defender, and embark on an amazing adventure, then restoring your Defender with TATC is the right journey for you. Keep reading to learn more about our restoration process, including all the different stages involved in this type of project.
The Stages in the Restoration Process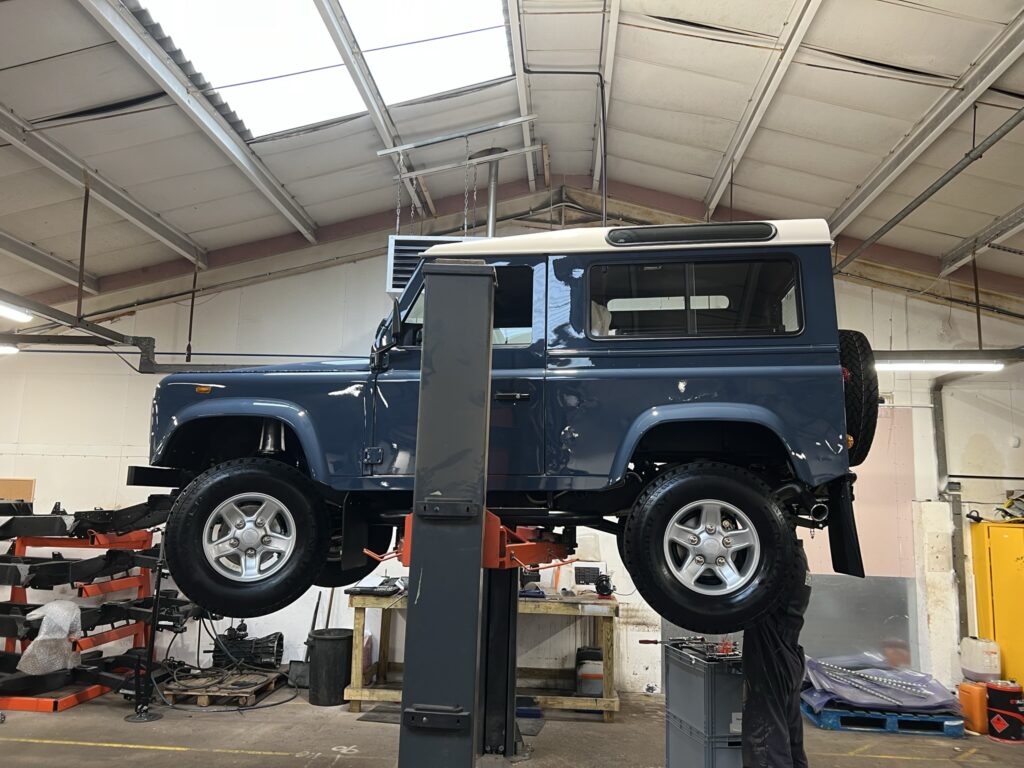 Undertaking a restoration of a Land Rover Defender is a multi-step, detailed process, covering every single aspect of the legendary 4×4 vehicle, no matter how big or small. There are many different stages within the restoration process, which we are going to cover in more detail below.
Firstly, the initial step is the removal of the chassis, which is the Defender's foundation. This is an integral part of the restoration, and it enables our automotive engineers to view the integrity of the entire frame. Following the chassis removal, it will be shot-blasted back to bare metal, with minor welding and repairs made too. Then, it'll be spray galvanized, primed and epoxy coated.
Secondly, our restoration team will move onto the suspension, brakes and axles stage. We will replace all brakes and brake lines, and install new ventilated front disks, new disks and pads on the rear, as well as refurbished axles too. After this, the next stage of the restoration process is the remanufactured engines and gearbox.
We will fit a newly remanufactured engine and transmission, ensuring impeccable quality on all engines, gearboxes and transfer boxes. Our engines are hand built by the top engineers in the Defender community, whilst our gearbox and transfer box is remanufactured by a small team of Land Rover specialists.
The fourth stage is the bulkhead and body panel preparation. Once we've stripped the body down into its component parts, we will clean and prepare the outer and inner panels for paint. We paint all floors, wheel arches, tubs and inner bulkheads in Raptor protective paint, which is resistant to rust and provides extra insulation and soundproofing.
All of our restorations include the fitting of brand new OEM doors, as well as new door cards and door components. We also offer the option of Zintec coated steel skinned doors, for mitigating the effects of galvanic action, which can be observed on older doors.
Our body shop work is delivered by experienced professionals in first-class facilities. In order to achieve the highest quality finish, all body parts are painted separately when the vehicle is stripped. This meticulous attention to detail is what makes us leaders in the sector.
The sixth stage involves bringing all of the major components together. First of all, we fit the reartub and then install the front bulkhead (once we have fitted the wiring loom and fuse boards). Following this, our automotive engineers can build up the wings, doors and run electrics. Interior and trim is the focus of the seventh stage. We provide all restorations with an additional centre dashboard with USB and 12v power sockets and light switches. We also fit new windshields (heated or unheated), front passenger soundproofing and rubber matting kits. Our Defenders feature Alcantara headliner, thermal acoustic carpeting in the second row and cargo area, and in Defender 90s, fitted rubber matting in the rear.
Your restoration can be fully bespoke and customized according to your specifications. For example, you can choose from a range of optional extras such as Air Conditioning (AC), upgraded seats, auxiliary heaters and enhanced HiFi systems.
The ninth and final stage of the restoration process is the test drive and completion checks. All of our Defenders are run for a minimum of 200 miles to ensure that they meet our rigorous post-completion quality assurance checks.
We will send the Defender for a full British Government MOT (safety check and certificate of roadworthiness) or European equivalent by an independent garage. Following this, it'll be ready to be shipped directly to you.
Rebuilding and Restoring a British Legend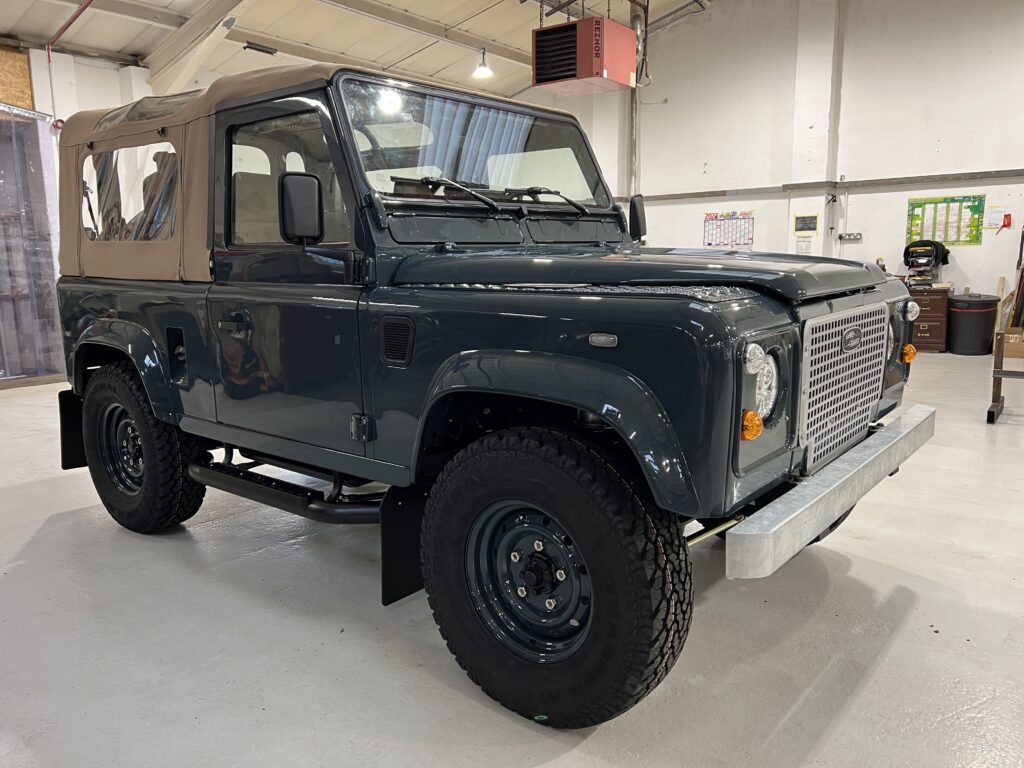 Restoring a Land Rover Defender is a unique experience that cannot be replicated. It's a magnificent journey rebuilding and restoring a Defender to the highest standards, using the highest quality materials and parts available. It will substantially upgrade your 4×4, boosting its strength, robustness and look in equal measure.
Your Defender will look better than ever, significantly improved from the time it left the factory. What's more, it'll be preserved to the highest specifications, beyond factory standards. As a result, it'll remain in excellent condition for many years and generations to come.
At TATC, we put more than 1,000 man hours into each and every Land Rover Defender that we restore. Our attention to detail is what sets us apart; all of our qualified automotive engineers are deeply passionate about preserving the history of the Defender. And, from start to finish, we'll guarantee complete precision, unrivalled craftsmanship and engineering throughout.
Interested in Custom Restored Defenders?
If you are interested in restoring a Land Rover Defender, then TATC is the ideal restoration company for you. We restore all popular Defender model configurations including NAS look-alikes, Tomb Raider-style 110's, Land Rover Defender 90 soft-tops and hard-tops, Defender 110 soft-top Beachcombers, Land Rover Defender pick-ups and Defender 130 double-cabs.
Whatever type of adventure you're looking to embark on, whether you're heading off-road in the fields or forests, or heading for the waves, TATC can guide you through your restoration journey with meticulous attention to detail, the utmost care, and the highest standards in the sector.
To get in touch with our team, please send us a message via the online form on our website, and we'll get back to you as soon as possible.