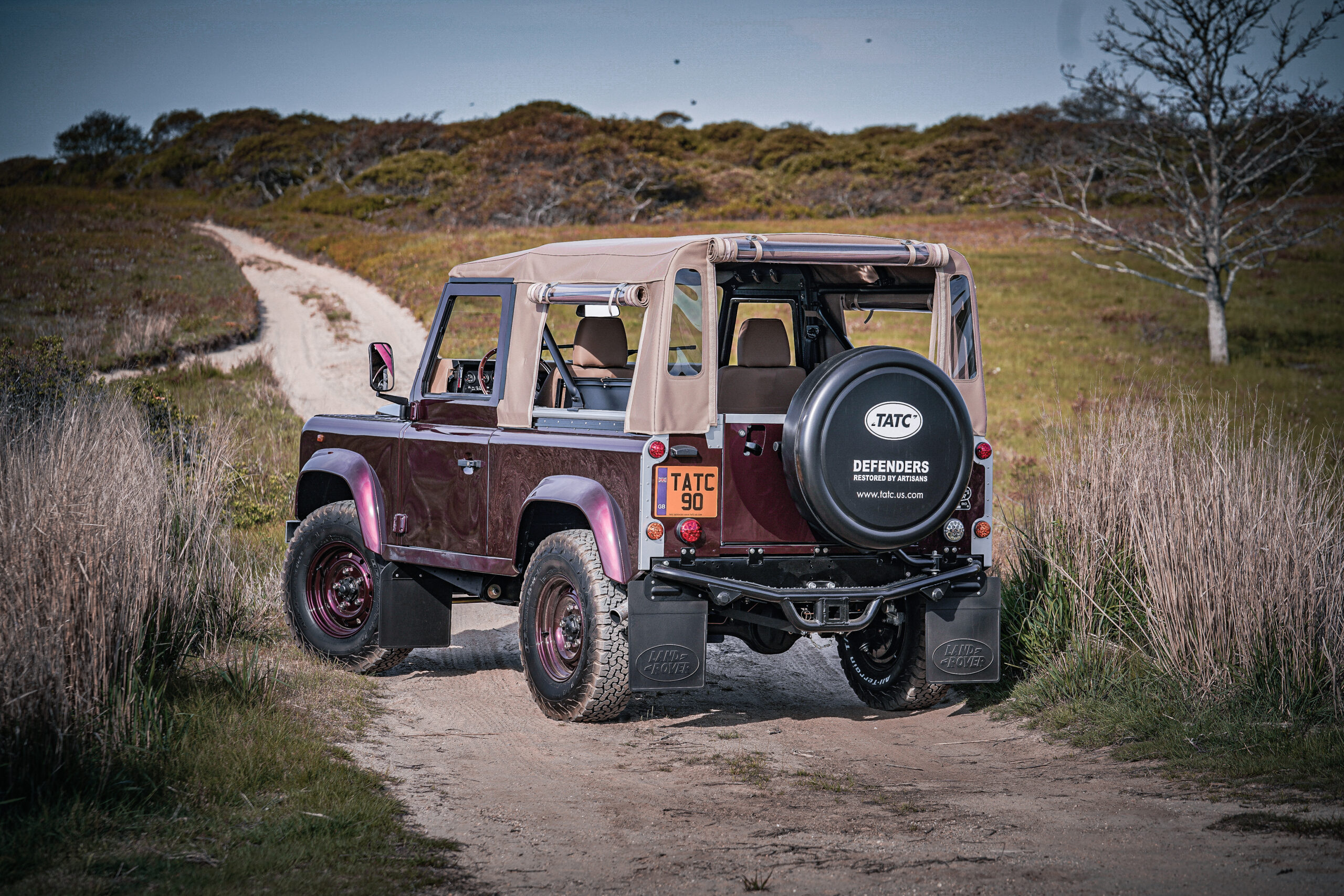 Adventuring off-road in a Land Rover Defender is a thrilling experience. The Defender was born for off-roading, providing exceptional capability in almost any environment – forest, desert, mountain or river – you name it. It can reach places other vehicles simply cannot, giving you an unrivalled experience and creating lifelong memories along the way.
If you're planning to embark on an off-road adventure, then it's essential that you prepare your Defender for any scenario, any environment that it might be placed in. Restoring and customizing your Land Rover Defender specifically for off-roading will enable you to get the most out of this legendary 4×4's capabilities on harsh, unforgiving terrain.
You'll be able to reach hidden, untouched spots that you wouldn't have otherwise encountered. And, it'll all be possible with maximum enjoyment, comfort and safety in your restored Defender. Customizing your Defender will optimize its off-road performance and enhance your driving experience.
In this post, we take a look at the diverse range of ways you can use your Land Rover Defender off-roading, and then explore the different restoration and customization options that are popular for off-roading purposes.
Using Land Rover Defenders for Off-Roading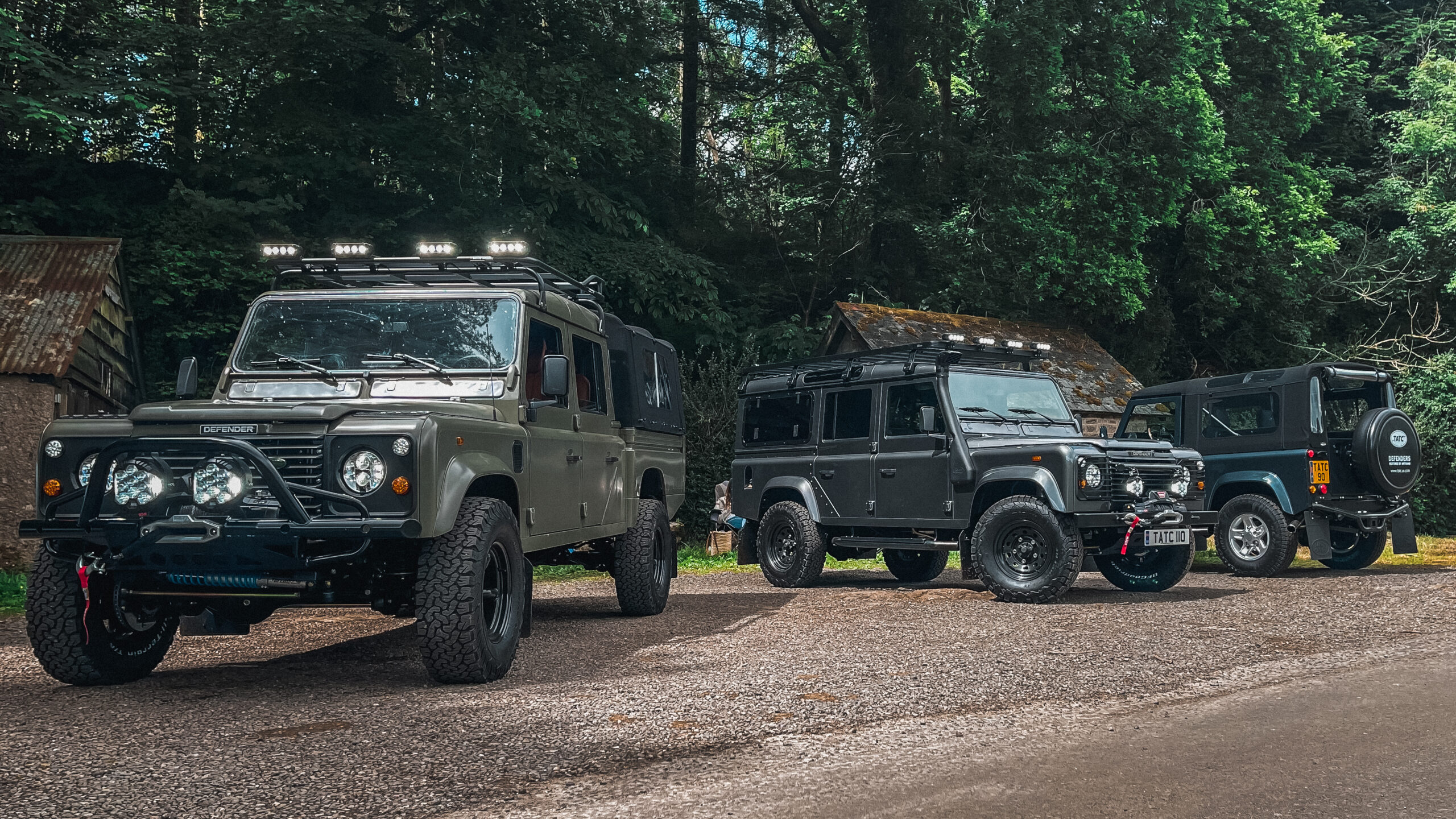 Off-roading capability is one of the Defender's strongest assets; this iconic 4×4 is at home on a diverse range of terrains. It's an adaptable beast, capable no matter where you're adventuring – whether you're beach driving, attempting to climb a muddy hill or driving over a rocky area.
Quite simply, if you want to experience the magic of off-roading, then the Land Rover Defender 90, 110 or 130 are the ideal accompaniments for your adventure. They'll enable you to reach new places and undiscovered spots, having a truly unique experience that cannot be replicated.
The Defender has excelled in some of the world's most challenging terrain, comfortably handling a vast range of surfaces and off-road obstacles in places like Africa and the Northern Territories in Australia. Whether it's the brutal Australian outback or the unrelenting African wilderness, there's nowhere the Defender hasn't gone and reigned supreme.
Whatever type of off-roading adventure you have planned, you can be confident that your restored Defender will be able to cope with what's thrown at it with ease. Custom Defenders are incredibly robust, strong, durable and capable. They can navigate sand dunes, rocky terrain, mountains, rivers, dirt tracks and so much more.
Camping with your Land Rover Defender is one of the most popular ways to experience the off-road magic of this 4×4. Your Defender will allow you to reach breathtaking, remote camping destinations, giving you an opportunity to stay in outdoor places unlike anywhere else. With a restoration by TATC, your 4×4 can be set up for magnificent camping adventures all over the US and abroad.
Restoring and Customizing for Off-Roading Purposes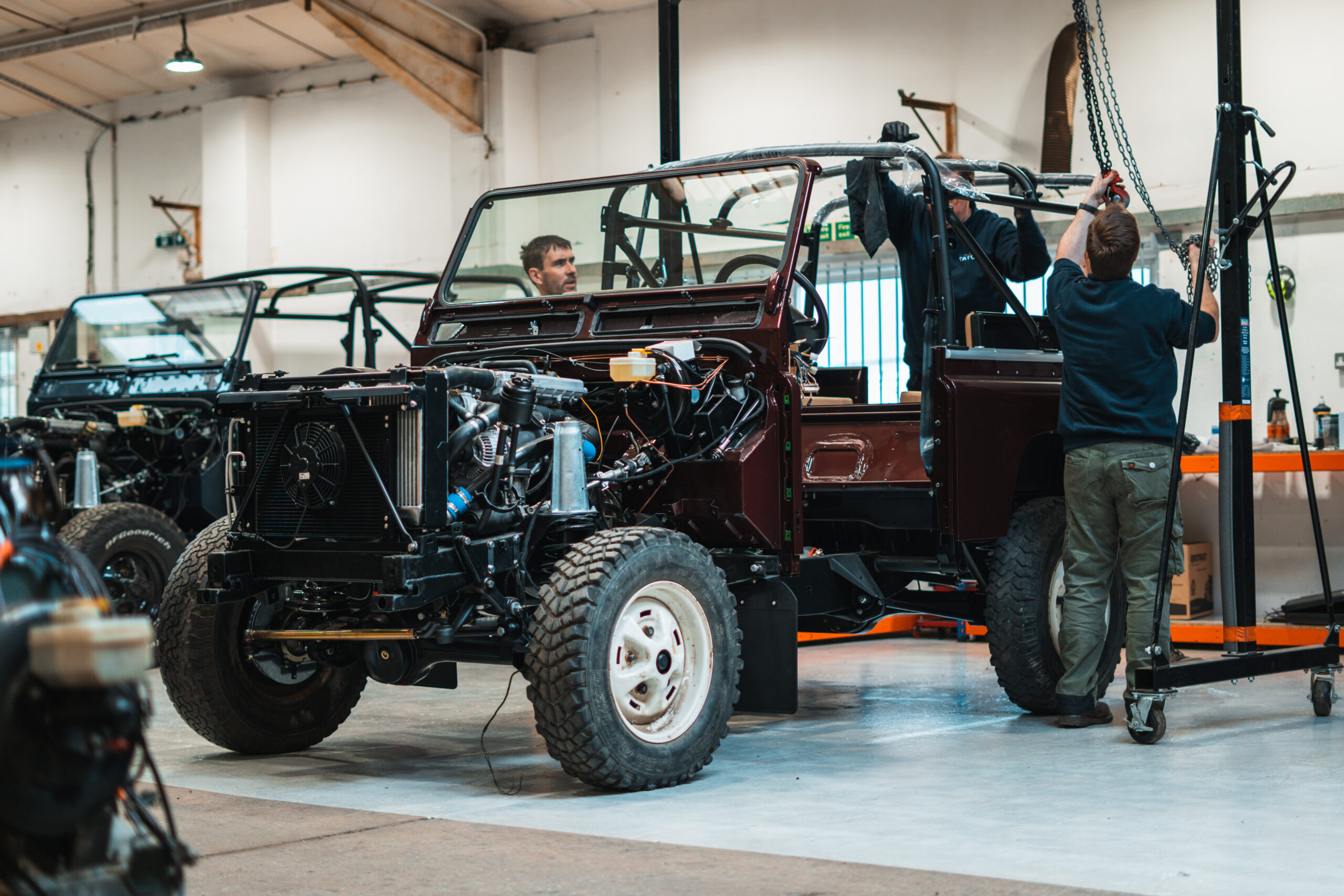 If you're considering venturing off-road, then it's crucial that you restore and customize your Defender precisely for off-roading. Restoring with off-roading capability in mind will optimize your 4×4 for the tough, ferocious conditions and environments that it is going to come up against.
Not only will it make your Defender more capable, but it will also give you, the driver, and all passengers on-board, a superior experience. It'll improve comfort, making the journey smoother and more pleasant, no matter the terrain you're traversing.
It'll increase safety too, as you'll be able to more reliably and comfortably navigate difficult terrain. Now, let's have a look at a few of the different ways you can upgrade your Defender for off-roading purposes.
First of all, you can restore and customize your Defender by equipping it with off-road tires to provide better grip and traction. A good set of tires will improve performance in landscapes such as sand, mud, ice and snow, as they'll provide depth and stronger tread. They'll also be less likely to puncture when going over rougher terrain too. So, they're an excellent choice.
Another great addition to a Land Rover Defender is installing a heavy duty winch. Having a winch can be a lifesaver for when you're in a particularly difficult situation. It can really help you if you're physically stuck off-road and need to get your vehicle out of a tricky spot. It'll also help you to recover others who have become stuck on difficult terrain too.
Furthermore, consider adding a roof rack for off-roading. Roof racks are ideal for storing camping gear, luggage and sporting equipment. They can give you plenty of additional cargo capacity, and open up a myriad of new off-roading possibilities.
Finally, you should think about choosing enhanced lighting for your Defender. Adding lighting to your 4×4's exterior will give you improved visibility at night and during off-road adventures. This can make off-roading a whole lot safer.
Overall, off-roading with a Land Rover Defender is one of the best pleasures in life; it's a wonderful way to explore the great outdoors. And, with customization and restoration from TATC, you can professionally prepare your vehicle for everything that it's going to face – from the mountains to the muddy hills.
Interested in a Restored Land Rover Defender?
At TATC, we specialize in preserving and upgrading Land Rover Defenders for future generations. Our team of knowledgeable, experienced automotive experts can bring out the best in your Defender, taking you through every step of the modification journey.
Whatever your off-roading requirements and needs, we can optimize your Land Rover's performance, customizing it to your exact specification and creating a new legacy for this renowned 4×4.
If you're interested in a restored Land Rover Defender, then please do not hesitate to reach out to TATC via the online contact form on our website; we'll get back to you as soon as possible.