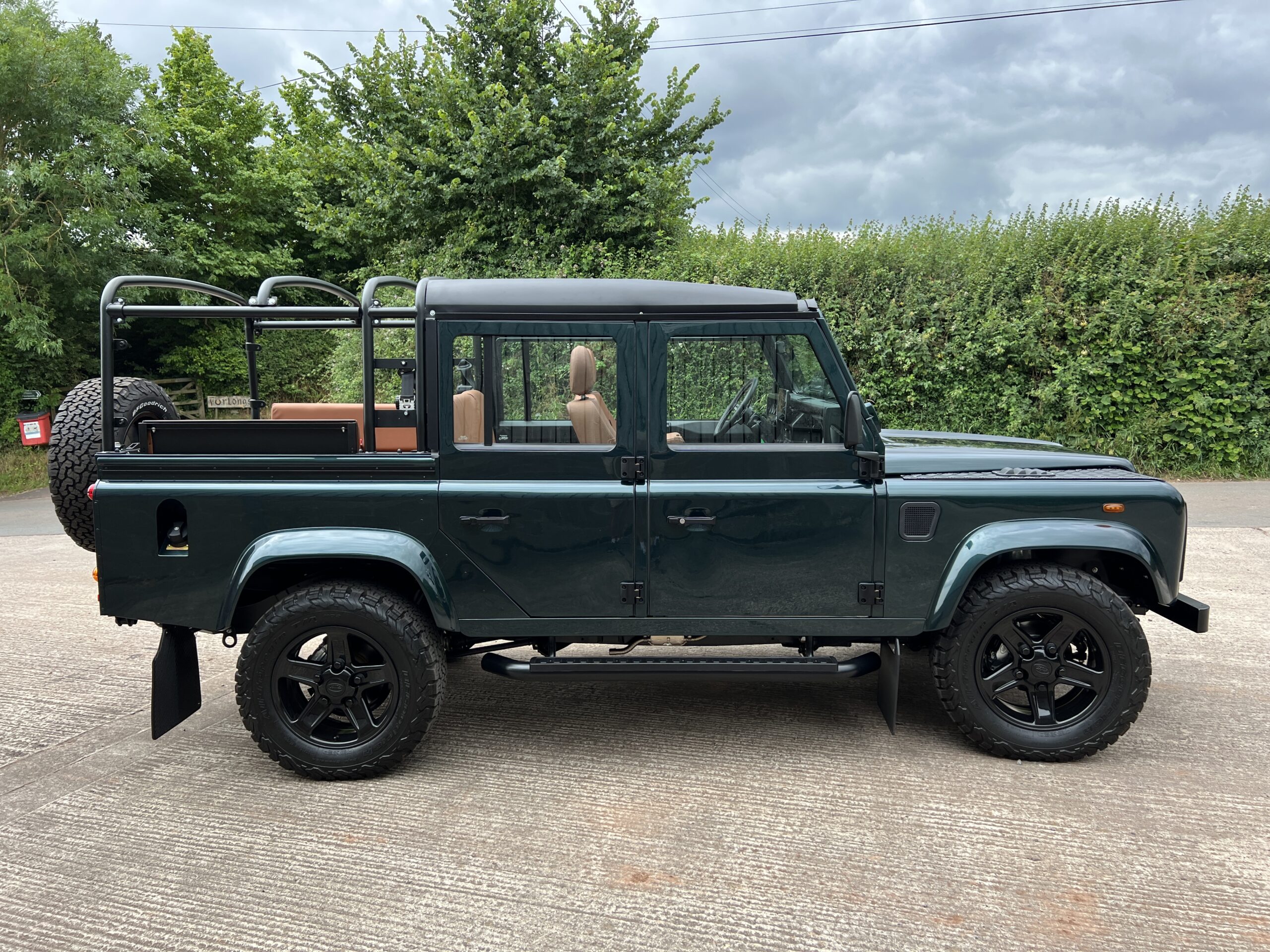 The journey of the classic Land Rover Defender 110 has been nothing short of iconic. From being an indispensable ally in rugged terrains and unforgiving environments to a symbol of British engineering excellence, the 110 model has firmly cemented itself in the automotive history books over several decades.
However, with age, even off-road icons like the Defender 110, Defender 90 and Defender 130 need a professional touch-up. This is where Defender restoration comes into play. Working with a Land Rover specialist, you can modify and upgrade your vintage Defender so that it continues to perform well both on and off-road.
In this blog guide, we take a closer look at Land Rover Defender 110 restoration. From the historical legacy of this globally-recognizable machine to the importance of expert, authentic restoration, we cover a wide range of topics in our post.
Read on to learn more.
The Story Behind the Land Rover Defender 110
The Defender 110 isn't just another model in the vast array of four-wheel drives; it's a narrative of human endeavor. Born in the early 1980s, the Defender 110 was designed to be a robust, durable and no-nonsense utility vehicle suitable for both urban jungles and off-road escapades.
The name "110" refers to the vehicle's wheelbase in inches; with the model offering driver and passengers ample space and versatility. Quickly recognized all over the world was the Defender 110's impressive resilience and performance.
Whether the Defender 110 was used for military purposes, humanitarian missions, or just as the off-roader of choice for passionate explorers navigating the wild, it quickly became the go-to vehicle. With an iconic silhouette, distinguished by a square shape and alpine windows, the 110 came to be a symbol of strength and durability.
How Restoration Can Preserve the Defender 110's Heritage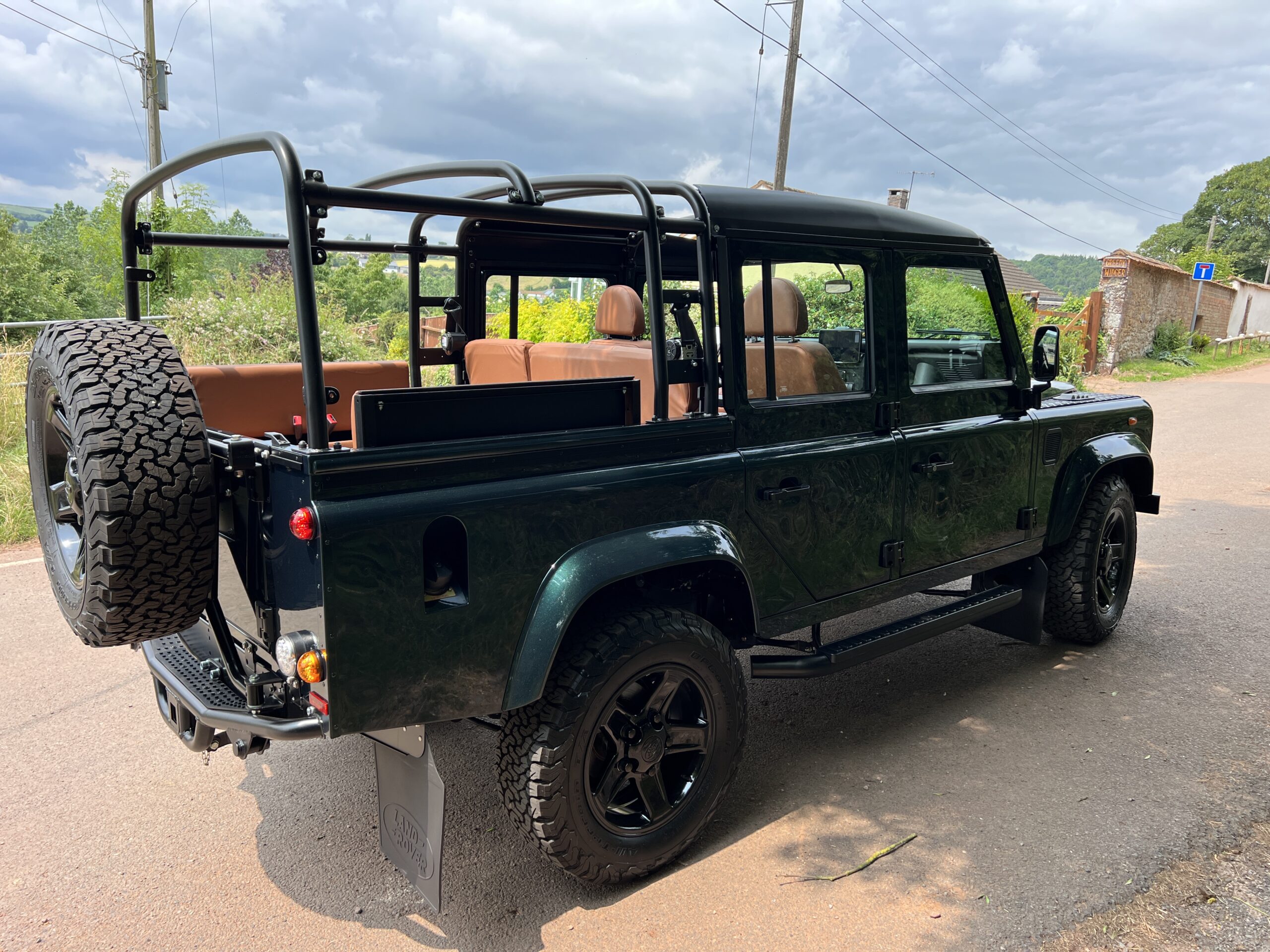 As with all things classic, time can take its toll on the Defender 110. The wear and tear from countless outdoor adventures, exposure to harsh elements, and the inevitable march of time can leave the off-roader looking and feeling a little weary. 
And while some might see an aging vehicle, enthusiasts see a canvas ready for revival. Land Rover Defender 110 restoration can transform a declining vehicle, not only fixing the vehicle but also reclaiming a piece of British automotive history.
Every restored and modified Defender is a testament to the times gone by and a bridge to the future. It's a connection between the past, the present and the future, enabling the Defender to continue thriving as it gets passed on to future generations.
Ultimately, restoring a Defender is about ensuring that the stories associated with this unique vehicle – the muddy trails, the mountainous expeditions, the desert sojourns – continue to be told and experienced for years to come.
The Restoration Process for a Defender 110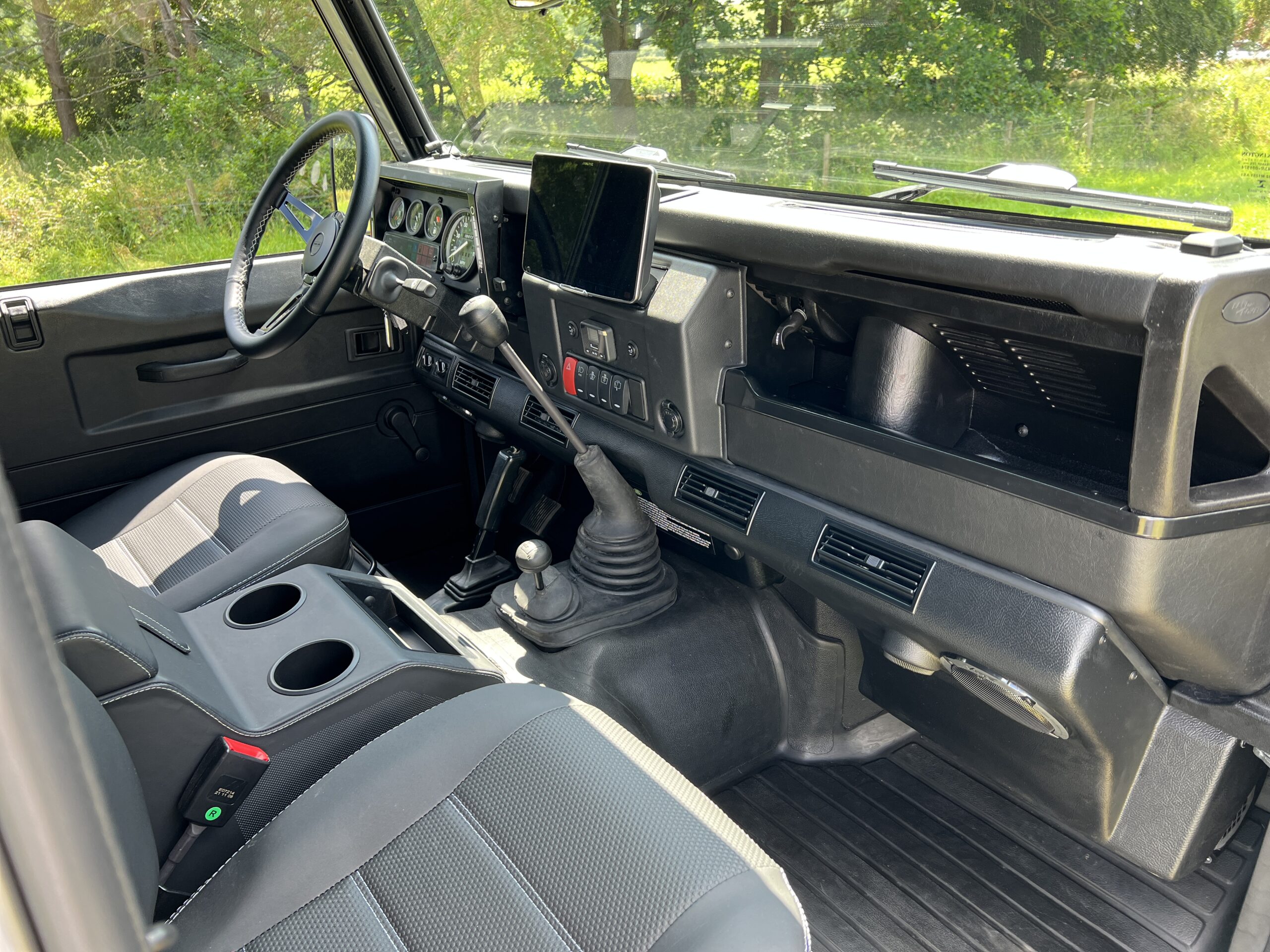 At TATC, we restore all popular Defender models including NAS look-alikes, Tomb Raider-style 110's, and Defender 110 soft-top Beachcombers, to name just a few. Here's what the restoration process involves: 
Our team of expert automotive engineers embarks on a meticulous journey to disassemble your Defender 110 down to its foundational chassis. From the exterior body panels to the smallest internal components, everything is carefully removed. This thorough process allows us to inspect each part, ensuring that any wear or damage is identified and addressed.
Reinforcing the Foundation
The chassis, the backbone of the Defender, is given special attention. It's subjected to a comprehensive process where it's shot-blasted to its original metal state. Any signs of wear or damage are repaired, after which the chassis is primed, and coated with a protective epoxy layer, fortifying its resilience.
Overhauling Suspension, Brakes, and Axles
Once the chassis is fortified, our focus shifts to the vehicle's mobility components. We undertake a complete overhaul of the suspension, brakes, and axles. Every component, from brake lines to axles, is either replaced with new parts or refurbished to match the vehicle's original performance standards.
Engine and Transmission Revival
All of our Defender 110's feature top-of-the-line remanufactured engines and transmissions. These components are handcrafted by the very best in the Defender community. Additionally, the gearbox and transfer box are rejuvenated by a select team of Land Rover specialists too.
Post dismantling, your Defender's body is prepped for a fresh coat of paint. We ensure it's shielded against rust and enhance its acoustic properties for a quieter ride. In our quest for excellence, we fit brand new OEM doors and also provide the option of Zintec coated steel doors for added resilience.
Masterful Paintwork and Assembly
Our experienced artisans take charge of the painting process, treating each component individually to ensure a seamless and pristine finish. Post-painting, your 110 starts to come back to life as its major components are reassembled with precision.
While we aim to restore the Defender's classic charm, we also upgrade it with modern comforts. Our interiors boast USB sockets, state-of-the-art soundproofing, plush Alcantara headliners, and thermal acoustic carpeting, striking the perfect balance between vintage allure and contemporary luxury.
For those who seek a unique touch, we offer an extensive range of customization options. Whether it's advanced air conditioning, luxury seating, or a state-of-the-art sound system, we can tailor the Defender to your exact preferences.
Rigorous Quality Assurance
Before any Defender leaves for shipping, it undergoes an exhaustive test drive, ensuring every aspect meets our stringent quality benchmarks. Additionally, an independent garage conducts a comprehensive safety evaluation, certifying its readiness for the open road.
Restore Your Defender 110 with TATC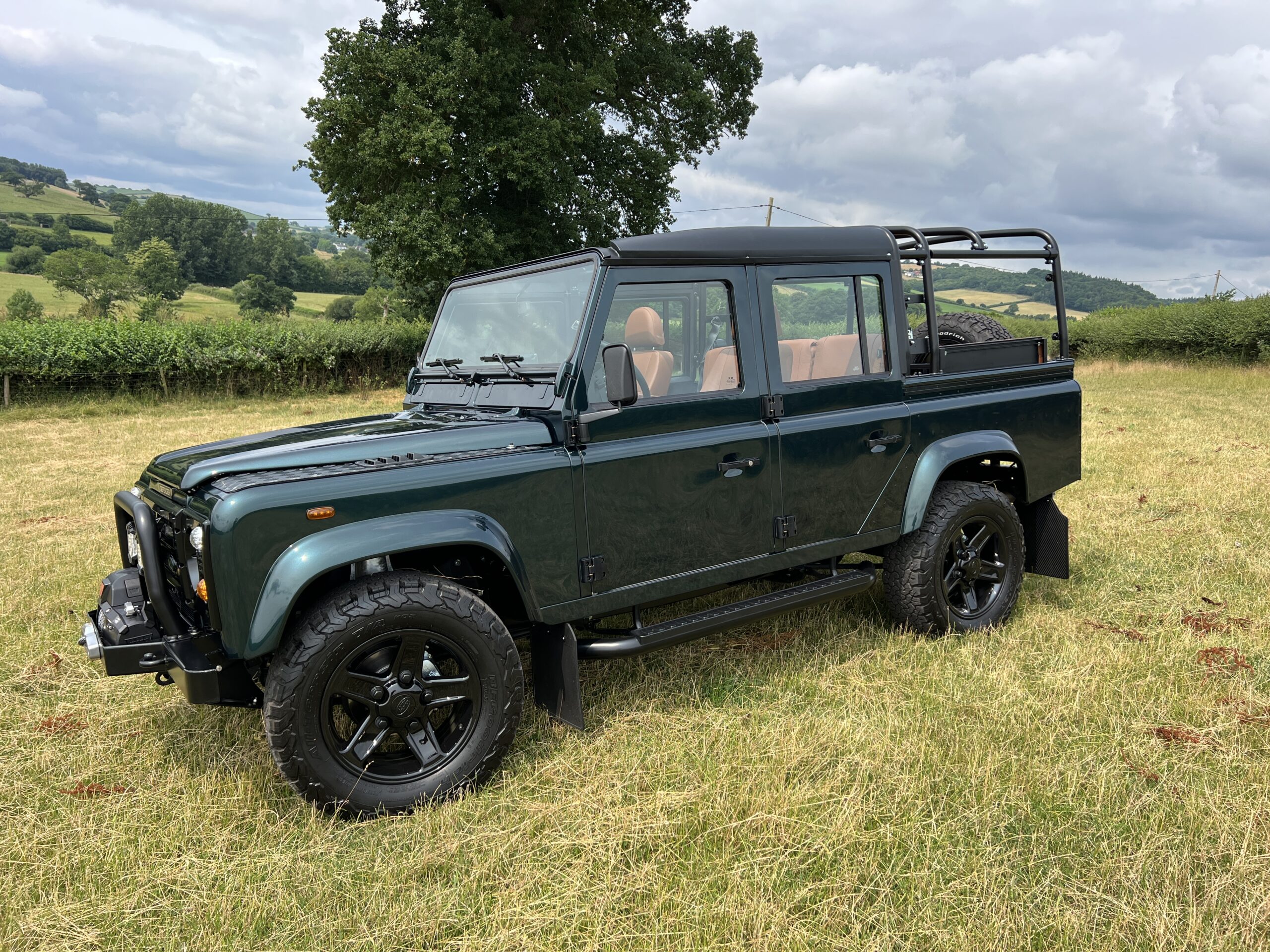 Overall, the process of restoring a Land Rover Defender 110 is an intricate one, demanding the utmost care, time and attention to detail. The result is not just an upgraded, functional and durable vehicle, but a moving monument and celebration of automotive history, craftsmanship and passion.
Here at TATC, we specialize in classic Defender 110 restoration, providing a highly detailed process that involves breaking down the Defender to its very foundation, ensuring every single part is meticulously inspected, repaired, or replaced.
We seamlessly blend top-quality parts with modern amenities, turning the Defender 110 into a perfect fusion of timeless charm and today's luxury. For anyone who values a vehicle that stands as a testament to both history and the present, our Defender 110 restoration services are second to none.
To enquire about Defender restoration services, contact us today via the online form on our website and we'll be in touch shortly. You can also email us at: hello@tatc.us.com.