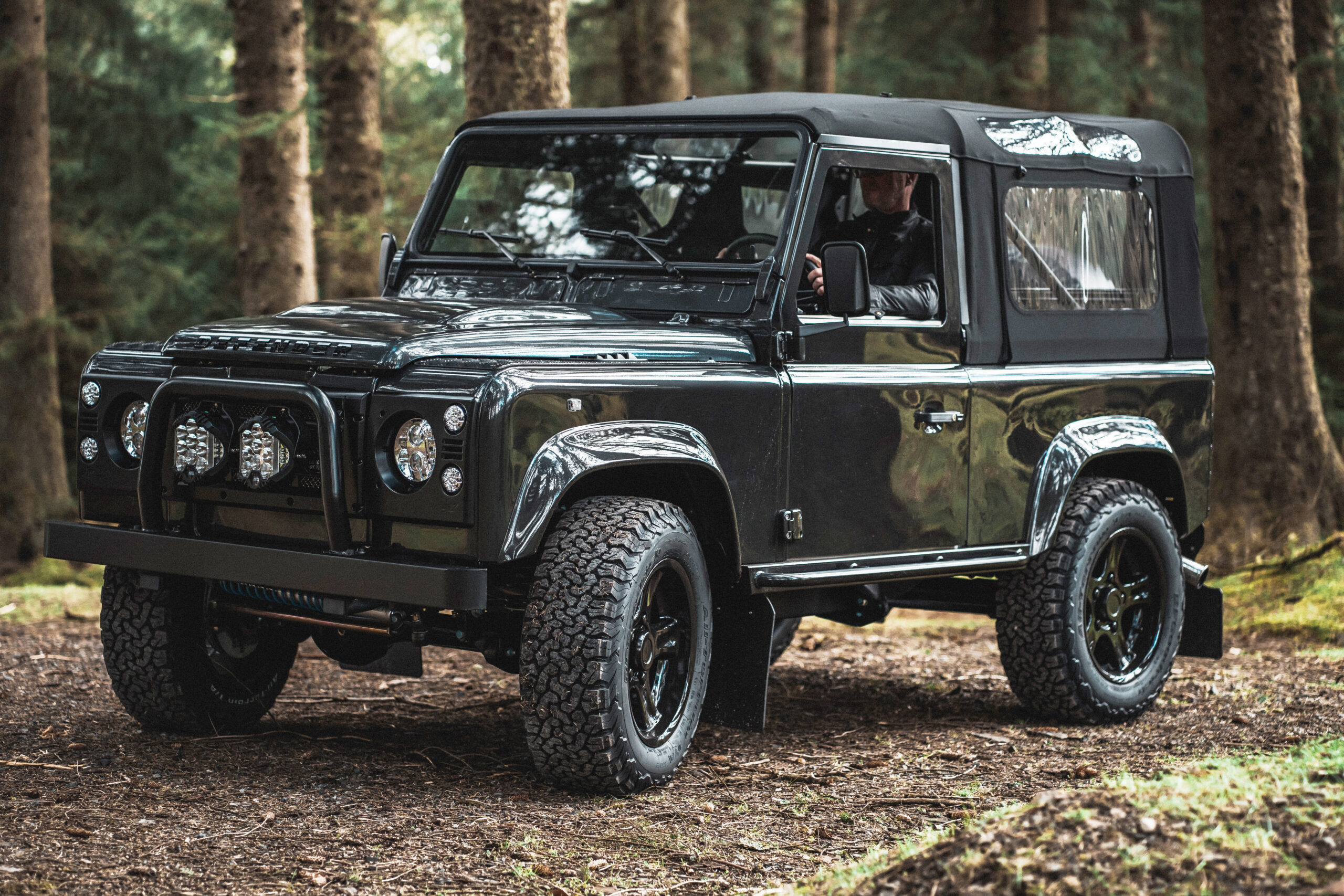 Rebuilding a Land Rover Defender is one of the most rewarding and fulfilling journeys for an enthusiast to embark on. It's a wonderful opportunity to take an aged, classic Defender in need of lots of work, and transform it into a more capable, more robust and stronger vehicle. 
Restoration work can return your 4×4 to its former glory, allowing you to experience the magic and charm of a classic British icon in the present day. From the restoration of the chassis to the remanufacturing of the engine and refurbishment of the body, there are a number of stages involved in a Land Rover restoration.
Each stage will rejuvenate your Defender, breathing new life into it and improving its capability in every single aspect. Whether you're an off-roader looking to go on outdoor adventures, or desire a powerful 4×4 to transport the whole family on a weekend trip away, a restored Defender is the perfect accompaniment.
If you've recently bought, or are thinking about buying and restoring a Land Rover Defender, and want to know what the process entails for you, then we've written a useful guide below. We explore what Defender restoration involves for the customer, looking at how you can begin your journey and the various steps along the way. Continue reading to learn more.
Starting the Journey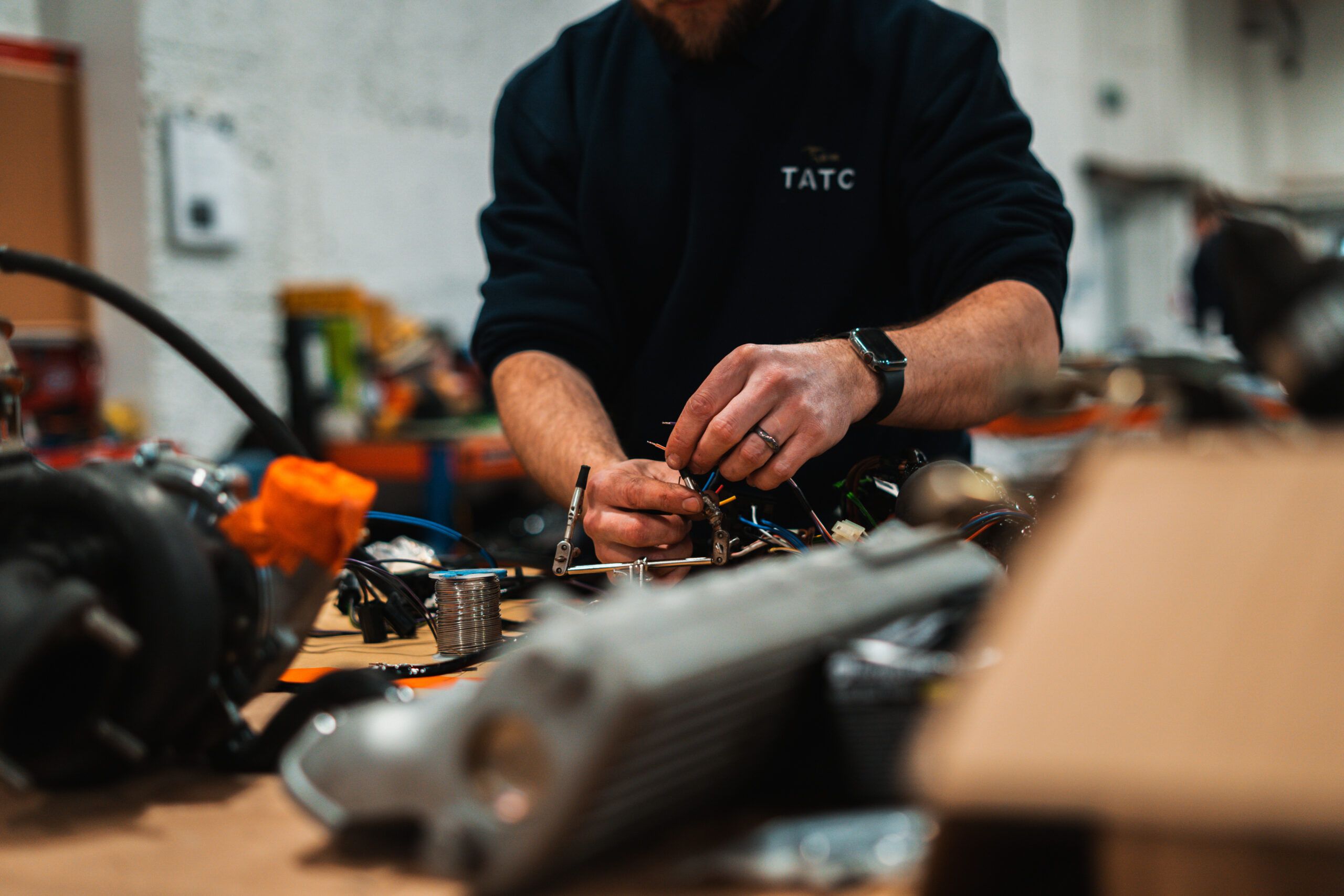 So, you've purchased a classic Land Rover Defender; it might be a Defender 90, Defender 110 or Defender 130. And, you want to be able to drive and experience your 4×4 in the most optimal condition. But, currently, your Defender is a bit unloved, beset with problems and in need of some tender loving care. 
If this situation sounds like the one you're in, then restoring your Land Rover is the best thing you can do. Restoration will upgrade, enhance and improve your vehicle in every possible way, rectifying mechanical problems and boosting the performance, so it's a better experience for both driver and passengers.
Once you've decided to restore your Land Rover, start your journey by getting in touch with the TATC team via the online enquiry form on our website. Our knowledgeable team will respond to you as quickly as possible, kickstarting the restoration process.
Discussing Your Requirements
Defender restoration can be as bespoke as you wish. There are a wide range of customization options for Defender 90, Defender 110 and Defender 130 models. For example, you can choose to add bespoke additions such as auxiliary heaters, upgraded new seats, Air Conditioning (AC) and enhanced HiFi systems.
When you restore with TATC, we will make sure that all of your customization options are fully discussed. Our team will discuss your requirements in great depth, ensuring that you receive the restoration of your dreams. We'll be in touch with you throughout the process, providing quick communication and helpful customer service at all times.
Restoring Your Defender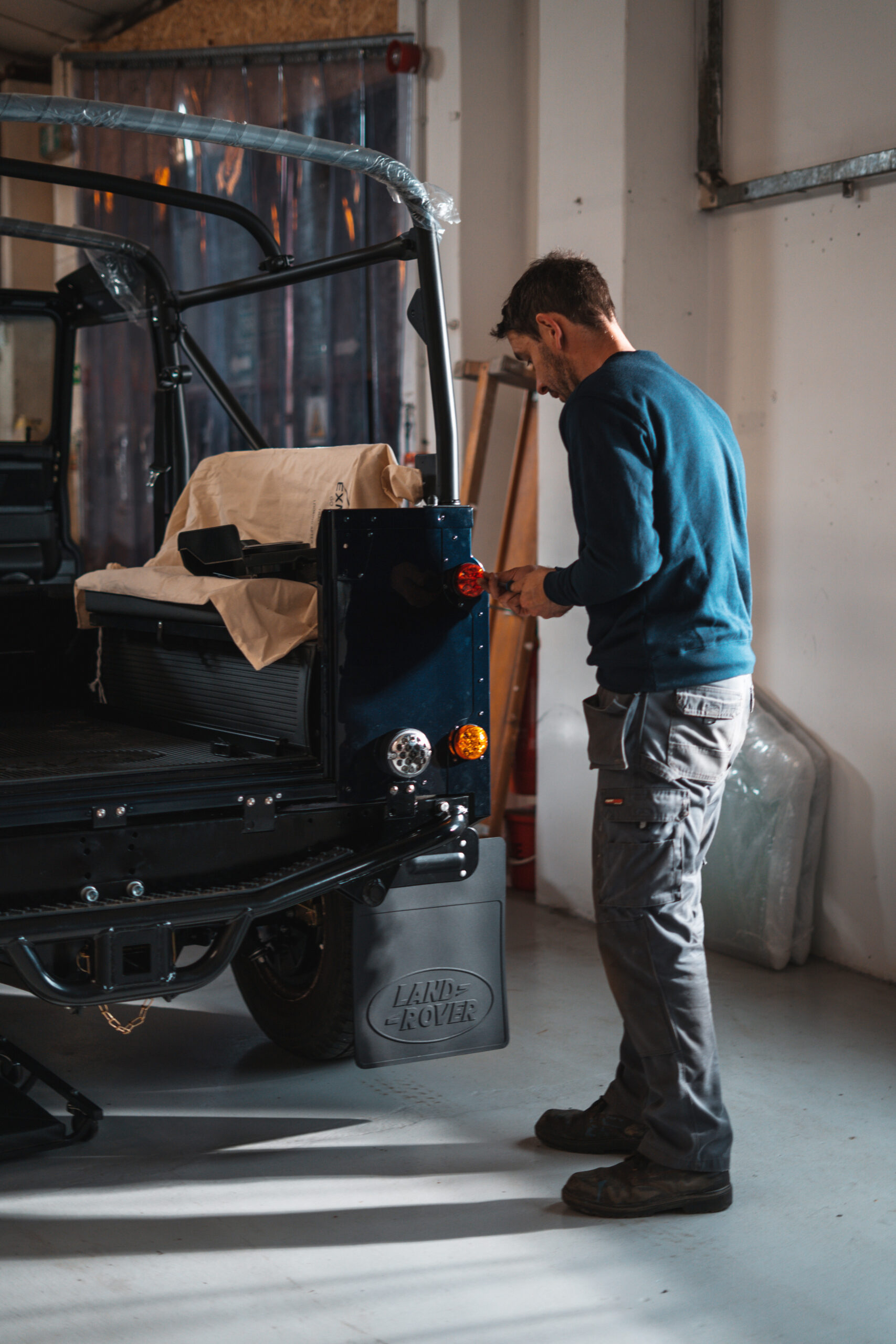 Starting to restore your Land Rover Defender is the next stage of the process. There are many steps involved in Defender restoration. We begin by removing the chassis and overseeing its restoration to the highest standards. Following this, the chassis will be ready for its suspension, brakes and axles, which will all be upgraded.
During the third step, we fit newly remanufactured engines and transmissions; our engines are hand built by first-class engineers, guaranteeing excellent quality. Next, we'll prepare the bulkhead and body panel, and then, carry out body paint and body shop work. Your Defender will have the highest quality finish, with all body shop work performed by experienced professionals.
The sixth step of restoration is the body refurbish, which involves bringing all the major components together. We'll fit the rear tub, install the front bulkhead, and then, build up the wings, doors and run electrics. Next, our team will work on the interior and trim.
Every restoration has an additional centre dashboard with USB and 12v power sockets and light switches. We also fit new windshields, front passenger soundproofing and rubber matting kits. As mentioned above, there are also lots of bespoke options, so we'll customize your 4×4 exactly to your wishes, creating your dream Defender.
Completing the Process
Once your classic Defender has undergone restoration by the TATC team, the very last steps will be test driving and checking your vehicle. All of our Defenders are run for a minimum of 200 miles, and we oversee rigorous quality assurance checks too.
Following this, the Defender is sent for a full British Government MOT or European equivalent by an independent garage. After this, your Defender will be ready to be shipped direct to your address, wherever you're based in the US.
Start Your Land Rover Restoration Today
Restoring a Land Rover Defender will rejuvenate your 4×4, bringing it back to life and delivering superior performance on the roads and off-road. From significantly improving the performance of your Defender to enhancing its look and feel, there are so many benefits of restoring your classic Land Rover.
At TATC, we specialize in rebuilding Land Rover Defenders to their former glory. All of our restorations are delivered with the highest skill, craftsmanship and engineering know-how. We take the utmost care with every Defender from start to finish, rebuilding your legend to the highest standards possible.
Now that you know more about the restoration process and how it works for customers, if you would like to enquire about restoring your Land Rover Defender, then please do not hesitate to contact us today. You can drop us a message via the online contact form on our website, and we'll be in touch with you as soon as possible.